Board Of Directors
Doug Hus,
President
Paul Booth,
Vice President
Dr. John Thomson,
Treasurer
Fran Thomson,
Secretary
Betty January,
Director
Hal Erpenbeck,
Director
Mike Roberts,
Director
Bart Magoffin,
Director
---
Board Meetings are held monthly. See our
Calendar Page
for more information. If you wish to attend please call (530) 677-3039.
Our mailing address is:
CRHS
501 Kirkwood Court
El Dorado Hills, CA 95762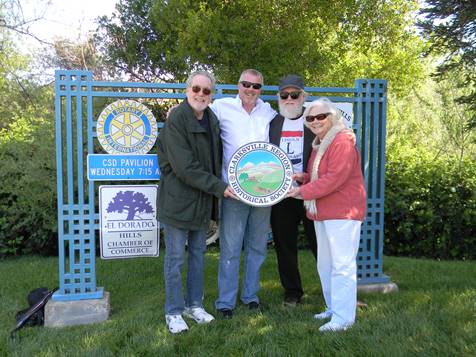 Left to Right: CRHS Board Members John Thomson, Doug Hus, Mike Roberts and Betty January proudly display the CRHS logo for placement on the El Dorado Hills Rotary Club monument sign at El Dorado Hills Blvd. and Serrano Parkway.
3