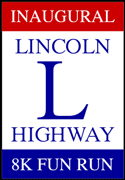 Inaugural Lincoln Highway 8K Run, Jog, Walk 10/1/16.
Please join us for this fun event hosted by the Clarksville Region Historical Society (CRHS) to help preserve our local history. A scenic run from EDH Natural Farms, down Old Bass Lake Rd (original Lincoln Hwy) under Hwy 50 on Clarksville Crossing to the Red Barn in the ghost town of Clarksville and back – or a 4K just one way. Included in registration fee is one year membership in CRHS and commemorative Lincoln Hwy T- shirt! Mail-in registrations must be postmarked by September 23, 2016, to guarantee a T-shirt.

Click here to download the Fun Run Registration Form.
At CRHS, our core mission is to preserve and promote the rich history of Clarksville and the surrounding region. We hope that you find this website interesting and useful as you hear the many stories and visit the many locations still standing and protected within our area.
Clarksville Days are back - May 2017! More information coming soon…
We encourage you to become a CRHS member, come to one of our speaker meetings and/or contribute to our cause by making a donation using the PayPal link under the side menu. Your donations are tax deductible.
Sincerely,
Betty January
Director & Past President
For more info about CRHS:
Contact Betty January at 916-933-3173.
Aerial Tour of Cemetery and Town of Clarksville